Print
How To Create Dynamic Segments
You can filter your contacts in a very simple way, by adding as many filters as you want, to get the search as refined as possible.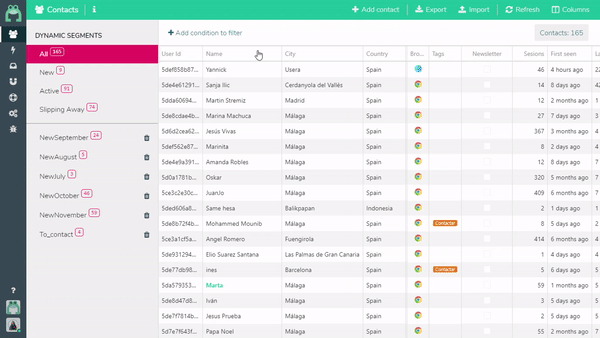 It's very simple, here we'll explain how to do it:
Click on the Add Filter button and a menu of options for attributes and events will show up immediately. When selecting an attribute you will have to specify, according to its characteristics, what type of filtering you want to carry out.
You can create a filter group, and link by attributes as well as events, this will always share your selection query, which can be AND or OR.
The platform allows you to create a second filtering group that is linked to the previous one, which will uniquely share the main query that you can change.
Segments are filters by some type of event or attribute. These filters can be saved- they will appear on the bar on the left of the screen.
The filters are dynamic, which means that once a segment has been created, users who are added to our platform and have those characteristics, will be added to those segments. In this way, you will always have your users sorted by your segments.