Print
Installing the Froged Script is super easy and takes less than 2 minutes! 😁
1) The first step is to copy the script - you can find it at Settings > Install.
2) Now, paste the Froged code into the header of your web page.

3) You can verify that it has been installed correctly by clicking on the test script installation button.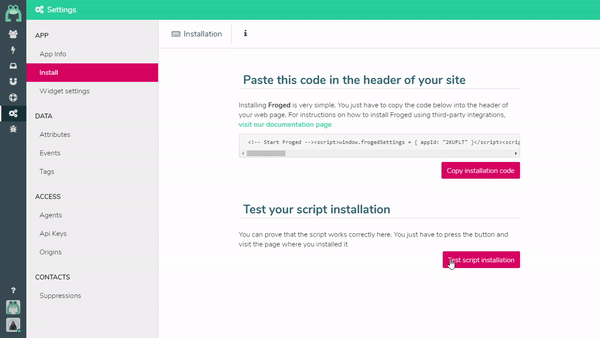 Now, you need to configure the 'Set' options to finalize the integration. With this function, your visitors' information will be updated.

It's especially important that attributes such as 'userId' and 'email' are merged is once a visitor becomes a contact. You can also add any custom attribute you have created to segment your customer base even further.

Find more information about this here: SDK javascript
Visit Install Froged in CMS to learn about other​​ install methods.